Radiation; Don't Meltdown About Fallout!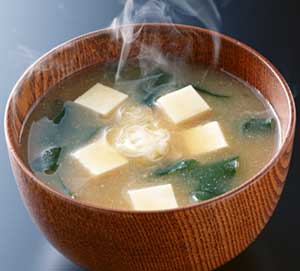 Radiation; Don't meltdown about fallout…just make some organic soup!!
All well wishes to the people, our friends and family in and of Japan and the world during this terrible tragedy.
I'm sure we've seen the news regarding the radiation risks in Japan during this time of crisis.
I'm not a doctor.  I do believe that food does matter.  How do I know about nutrition? It's how I've kept my weight off for so many years after losing 165 pounds.  Organic Miso is a part of my diet.
Post Hiroshima in the time of radiation sickness..Miso and seaweed became the popular choice for use in Japanese hospitals.  Seaweed is more complicated to prepare and not very stealth for the kiddies (doesn't hide well in peanut butter and jelly).
Miso tastes similar to soy sauce so it's easier to integrate.
I want YOU to google that relationship of post Hiroshima on your own or email me for a list of links/sources.  Here is a quote from Wikipedia:
http://en.wikipedia.org/wiki/Miso
"The nutritional benefits of miso have been widely touted by commercial enterprises and home cooks alike.
Claims that miso is high in vitamin B12 have been contradicted in some studies.[6] Part of the confusion may stem from the fact that some soy products are high in B vitamins (though not necessarily B12) and some, such as soy milk, may be fortified with vitamin B12.
Some, especially proponents of healthful eating, suggest that miso can help treat radiation sickness, citing cases in Japan and Russia where people have been fed miso after the Chernobyl nuclear disaster and the atomic bombings of Hiroshima and Nagasaki. Notably, Japanese doctor Shinichiro Akizuki, director of Saint Francis Hospital in Nagasaki during World War II, theorized that miso helps protect against radiation sickness.[7]
Some experts suggest that miso is a source of Lactobacillus acidophilus.[8] Lecithin, a kind of phospholipid caused by fermentation, which is effective in the prevention of high blood pressure. However, miso is also relatively high in salt which can contribute to increased blood pressure in the small percentage of the population with sodium-sensitive pre-hypertension or hypertension. Based on the other results of double-blind controlled studies of sodium and hypertension, there is no definitive evidence that high sodium intake leads to negative clinical conditions such as hypertension in healthy persons. Clinical evidence indicates wide-population heterogeneity in response to sodium."
Comment Caution!! Know that some folks are naturally allergic to iodine.  That's why some folks can't do seafood and some folks cannot do skincare that contains seaweed (for example, seaweed wraps or facials from an esthetician).
Email me!!  We can arrange an email session or powercall and in 20 minutes I can help improve your wellness one tiny upgrade at a time.  We can even skype!  There is more you can do to take care of you…one thing at a time.  Help your family by learning how to take care of them and YOU.  They need YOU, they do.  I do too!!
Ref note: Radioprotective effects of miso (fermented soy bean paste) against radiation in B6C3F1 mice: increased small intestinal crypt survival, crypt lengths and prolongation of average time to death.
http://www.ncbi.nlm.nih.gov/pubmed/11833659
..even Dr. Oz..adds his ten cents regarding medical imaging…good for awareness IMO:
http://www.oprah.com/health/Are-X-Rays-and-CT-Scans-Safe-Radiation-Risks-Dr-Oz
next week's topic….stay tuned for "The Cube Moocher That Wouldn't Leave"…(( they might just want to steal your miso or nori chips!) )
Want to Know More?
877-409-1758
(Visited 109 time, 1 visit today)